There are some tools that woodworkers just can't be without, and a great wood router is certainly one of them. For constructing joinery, creating designs, and doing edgework, having a fixed base or plunge router is a must alongside adequate saws and drill bits. But for anyone who has yet to come across a router that's impressed them, we've found seven of the best of them for you to choose from.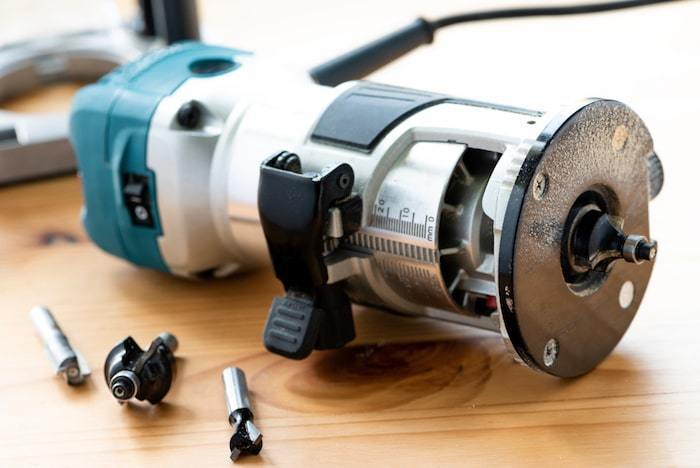 Image credit: Shutterstock/Svetlana Monyakova
While legacy brands like DeWALT and Bosch have received their fair share of applause for router tables, some brands—such as Avid Power—have been showing face as crowd favorites too, occasionally with impressively lower price tags. But prior to shopping for a router, it's useful to know what varieties are available to aid you in your selection.
Types of Wood Routers
When it comes to wood routers, there are different features that may make one stand out from another, and some even straddle two categories, but for the most part, there are three types of routers up for consideration:
Plunge routers: Unlike a fixed base router, plunge routers can be adjusted, therefore they can lift and lower at a variety of depths when cutting. These tend to be the most versatile as some models can be attached and used as a fixed base router, too.
Fixed base routers: This type of router is great for edge work and is often considered more precise and easier to control than plunge routers. That being said, because their depth is fixed, they aren't as flexible as plunge routers, but they can be affixed to a table or modified with an adapter.
CNC routers: Save for the occasional home-constructed model, computer numerical control (CNC) routers are most often found in factories. This type of router uses programming languages to dictate how and where the tool moves and functions.
Top Picks for the Best Wood Routers 
From DeWALT's plunge router kit to Bosch's palm router, these are the top-rated models when sourcing a great wood router for work or play.
Best Palm Router: Bosch Colt 1.25 HP (Max) Variable-Speed Palm Router Tool | Buy Now
Best Compact Router: Makita 1-1/4 HP Compact Router | Buy Now
Best Plunge Router Set: Bosch 12 Amp 2-1/4-Horsepower Plunge and Fixed Base Variable Speed Router | Buy Now
Best DeWALT Router: DeWALT Router, Fixed/Plunge Base Kit | Buy Now
Best Fixed Base and Plunge Router: Skil 14-Amp Plunge and Fixed-Base Router Combo | Buy Now
Best Budget Router: Avid Power 6.5-Amp 1.25 HP Compact Router with Fixed Base | Buy Now
Scroll down to read more about these top wood routers and find out what reviewers love most about each product.
*Prices listed in this article were as shown in US$ on Amazon.com (USA) as of April 2022.
1. Best Palm Router—Bosch Wood Router
Ergonomics can make all the difference when it comes to power tools. If comfort is a priority, this palm-size router from Bosch fits comfortably in hand and makes movement easier in comparison to using traditional routers. Although it might not be able to outcompete a larger router, its small frame still offers 16,000–35,000 RPM and buyers noted that changing out the bits is a piece of cake.
"This tool is straightforward, easy to use and control, and gets beautiful results," explained one reviewer. "The router starts and stops very smoothly, which reduces the chance of accidentally nicking the piece you're working on. And it's very lightweight, not a clunker at all."
2. Best Compact Router—Makita Wood Router
Another small but mighty option comes in the form of Makita's RT0701C model. The narrow body is easy to maneuver and it's engineered to maintain a constant speed even when under pressure. Its depth can also be adjusted and the drill bits and base can easily (and quickly) be swapped out.
"I have owned several routers over the years; this one is by far better built and designed better than most," wrote one reviewer. "Most routers try to torque twist out of your hands, this one does not and is well balanced. Most of us do better work with tools that feel safe in our hands, this one does."
3. Best Plunge Router Set—Bosch 1617EVSPK Router
Add-ons can make or break an experience, and in the case of Bosch's 1617EVSPK model wood router, it's worth spending a little more to get the extra bells and whistles. Instead of just a router, this kit comes with two collets, an edge guide, a dust extraction hood, and a vacuum hose adapter. The dust extraction setup itself is worth it alone to keep wood particles away from your eyes and lungs.
As for the tool itself? "This unit is smooth as silk running half-inch bits and much stronger than my older, but similarly powered router," explained one reviewer. "The fixed base went directly into my router table and I'm using the plunge base for tabletop and free handwork."
4. Best DeWALT Router—DeWALT Router Set
One of the most appreciated features of this router is its micro-fine depth adjustment and its ability to switch between a plunge and fixed base router. This model is slighter larger than the Max XR cordless version (US$137.17 (Was US$219), Amazon) and doesn't need recharging thanks to its cord. DeWALT also sells this router in other sets, including one with a D-handle base (US$291.64, Amazon) and another with an edge guide (US$236.11 (Was US$251.67, Amazon).
"The plunge base is good for making holes or cutting dados, while the fixed base is good for edging," wrote one owner. "The router itself is very heavy and sturdy, and feels very well-made."
5. Best Fixed Base and Plunge Router—Skil Router Combo
When there's a list of varied projects, it's worth having the ability to use both a plunge and fixed base router, like this Skil version, which has been compared to top competitors such as Festool and Makita. Equipped with an LCD screen, the user can make controlled and exact cuts with electronic feedback that helps optimize the RPMs.
The brand also sells a corded fixed-base router (US$99.98, Amazon) with a 10-amp motor. One reviewer also noted, "The transparent base and integrated light make it easy to see your work, and the vacuum fitting on the plunge base gets rid of debris effectively."
6. Best Budget Router—Avid Power Router Set
In the market for a fixed-based router on a budget? This wood router from Avid Power covers all the bases for anyone working on smaller-scale projects. It's small, easy to move around, and works great for things like trim. In addition, if there's ever a need for a more flexible plunge router, this model can be mounted onto a table for plunge-like cuts, and you can also contact the manufacturer for a plunge adapter.
Reviewers have used this convenient wood router for all sorts of tasks, including making wooden desks, routing deck flooring, and crafting tables.
The Best Wood Router 2022—Summary
Whether it's needed for making mortise and dovetail joints or slicing intricate panels, one of these best wood routers will certainly come in handy. Bosch's palm router (US$119 (Was US$139), Amazon) is great for those who need something more ergonomic, whereas DeWALT's convenient model (US$199 (Was US$213.40), Amazon) is superb for projects that call for fixed base and plunge routers.